By JILL GREENBAUM, Ed.D.
Certified Points of You Trainer
What do you hope for in your life?
What personal or professional goals do you want to achieve?
Are there new, or perhaps unrealized, opportunities that will inspire, excite—or maybe even challenge –
you to step onto a new path, or begin a deep, personal journey?
In settings around the world, in one-to-one coaching sessions, and with groups at conferences, I ask these questions.
I offer new and different ways to use The Coaching Game and Punctum.
These experiential activities enable people to integrate drawing into the visioning and goal-setting process. It is exciting and rewarding work!
Reflecting
I am passionate about supporting people in reflecting on their lives, choosing a vision for the future, and imagining their path, in very concrete ways.
Whether it's working with teens or with colleagues, participants in the sessions are delighted to be given the opportunity to choose from three to
six cards from The Coaching Game deck to tell the story of where they are in their lives – right now.
This process takes a bit of time as they choose from among the cards face down (My colleagues at Points of You® were thrilled with the chance to
break outside the norm and use, what felt like, an extraordinary number of cards to share their stories).
In pairs, people make the time to use the pictures and the words on the cards to explore the direct connections between the metaphors presented
by the words and pictures, and their present-day life.
Drawing
With this grounding process, our session shifts—participants are given the opportunity to learn to draw!
They take simple steps to quickly gain the skills to express their thoughts and feelings.
The drawing is in service of (soon) describing their Current Reality, Desired Reality, and the Three Bold Steps they will take to bridge the gap.
Everyone is always excited at the prospect of drawing/learning to draw icons.
I work to create a low risk and high success experience. The icons they practice span the spectrum, representing ideas in a straightforward manner –
from happy to anxious faces – to more metaphorical drawings of climbing mountains, leaping out of a box, growing like a flower, standing
at a cliff's edge or bridging a gap.
Participants practice what's fun to draw and what will serve them as they envision taking bold steps to move from their current to desired realities.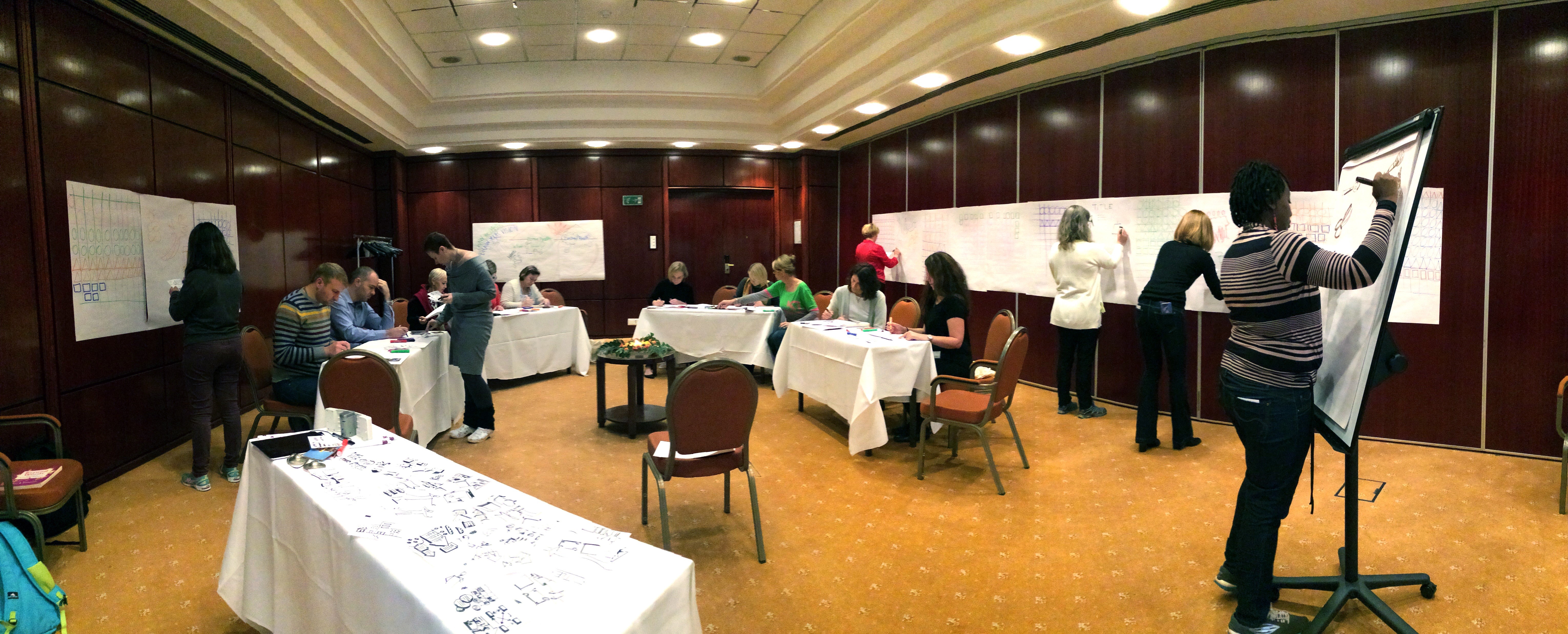 Shifting
When participants are comfortable with drawing, we pivot to conversations about goals and goal setting.
With clear ideas of what is to be achieved through drawing, they use their new skills and their IQ – Imagination Quotient –
and visually represent their current reality, their desired reality and the three bold steps they will take to reach their goals.
They dig even more deeply into their bold steps to identify two actions for each step.
Goals are given, and timelines, milestones, opportunities, and obstacles are identified.
Crystalizing
With their visions clearly in mind, participants have the opportunity to choose three cards (face up/known) from the Punctum card deck.
This process takes some time as their choices are intentional. They find new partners, and think through the synchronicities, really the story,
they wish to tell about their goals. The conversations are intense and wonderful to watch from afar.
After each person has shared their plans with his/her partner, we assemble as a large group.
Making it Real
With their work – the drawings and their stories about their future – in mind, I hand out papers with a tracing of an open hand to each participant.
I ask each person to write two steps towards their goals they will take in the next month.
In addition, they share their names and email addresses on the hand.
Everyone stands up, finds a partner in the room and "Shakes Hand with Success" giving their paper to a new partner.
Each of them will contact each other in one month to check in on progress toward their respective goals.
Walking the Path of their Vision
All of the sessions conclude with participants feeling insightful, heard, understood, and motivated to make their bold steps.
They have explored who they are, who they want to be in one or more areas of their lives, and how they will get there.
It is precious information.
Jill Greenbaum, Ed.D., is a visual practitioner, supporting people in living their personal and professional lives with greater clarity.
She incorporates visuals into all coaching, seminar, and speaking work, Jill is a Certified bikablo trainer.
Learn more about her work here >>